The NBI CLEARANCE eSERVICES are one of the government services which you can easily access from your interent browser and it is helpful for register, apply, make an appointment for NBI Clearance. Apart from that, this NBI Clearance eServices are a way for the government to provide the Filipinos' clearance and also avoid different people gathering for getting a NBI Clearance at the time of this COVID-19 pandemic situation.
But usually, before this pandemic, the NBI had it's NBI Clearance Online for the Filipinos, which is like big help now for being avoid a long queues and also gatherings.
Actually, if you're applying for the first time or those who are First Time Job seekers and the NBI clearance online verification is done through clearance.nbi.gov.ph nbi website simply by using your mobile or laptop with the internet connection. You can check the brief information on NBI Clearance eServices from below lines.
NBI Clearance E-services
This eService has two types of services such as; one of them is Online Verification of NBI Clearance and the second one is First Time Jobseekers. You can check the explanation in the below lines.
NBI Clearance Online Verification: Normally the online verification is for checking authenticity of your NBI Clearance and validity.

But in some other words, you can easily verify the person's NBI Clearance that if his/her NBI Clearance certificate is duplicate or unregistered.
First Time JobSeekers: If you're searching for your favorite job and you need the requirement of NBI Clearance for nbi clearance requirements for students refer this post, the the first time jobseekers will definitely help you as your primary requirement and it is free of cost.

Here a question may arise like How do you access these NBI Clearance eServices? and who can use these services?
If we see in its fundamental way its services have different jobs.
The online verification is to identify your NBI Clearance in case if it is fake or unregistered and these first time JobSeekers are for the specific person's who is first time to get an NBI Clearance.
Using NBI Clearance E-services
If you do not have any idea regarding to usage of NBI Clearance eServices then look at the below mentioned steps.
NBI's website https://clearance.nbi.gov.ph/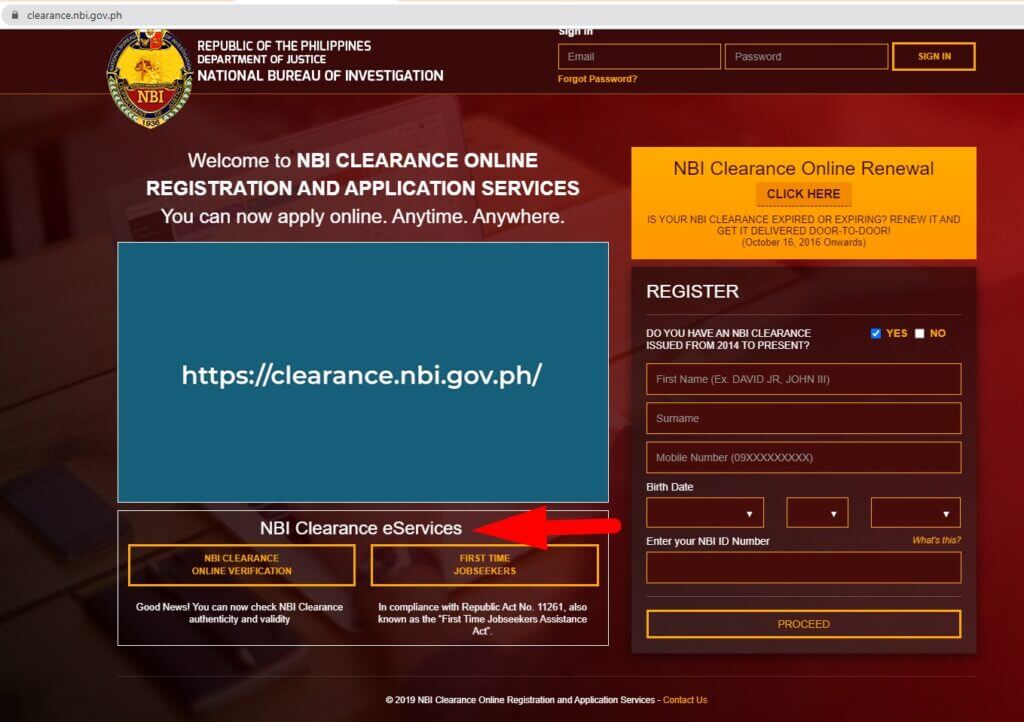 Like in the above image which is pointing at the arrow, that means under the NBI Clearance eServices you can see two options such as "NBI Clearance Online Verification" and the "First Time JodSeekers".
NBI Clearance Online Verification
Even if you're not logged into your NBI's Website, you are still be able to use it to check out the person's NBI certificate. To do this, see the below provided image.

After clicking on the NBI Clearance Online Verification, one new window will be pop up, and there online verification will be shown as we given below image.

Here the Online Verification, is to check the NBI Clearance properly, so you should enter the NBI ID Number in the given box and then hit on the "VERIFY" button. We do not recommend to use SCAN QR CODE option because it is not working properly.
First Time Jobseekers
Being of a First Time Job Seekers, you have the privilege to avail once and also for once copy only of your NBI Clearance.
As per the LAW of R.A No. 11261, it is known as "First Time Job Seekers Assistance Act". You can easily avail a free of charge for all of your job requirements of any government agency, includes NBI Clearance too.
Whenever you hit on the "FIRST TIME JOBSEEKERS," then you can see the notification which has been indicated the following notification of RA 11261. So, after reading this notification, you have to click on "OK" button to continue to the new window application and registration.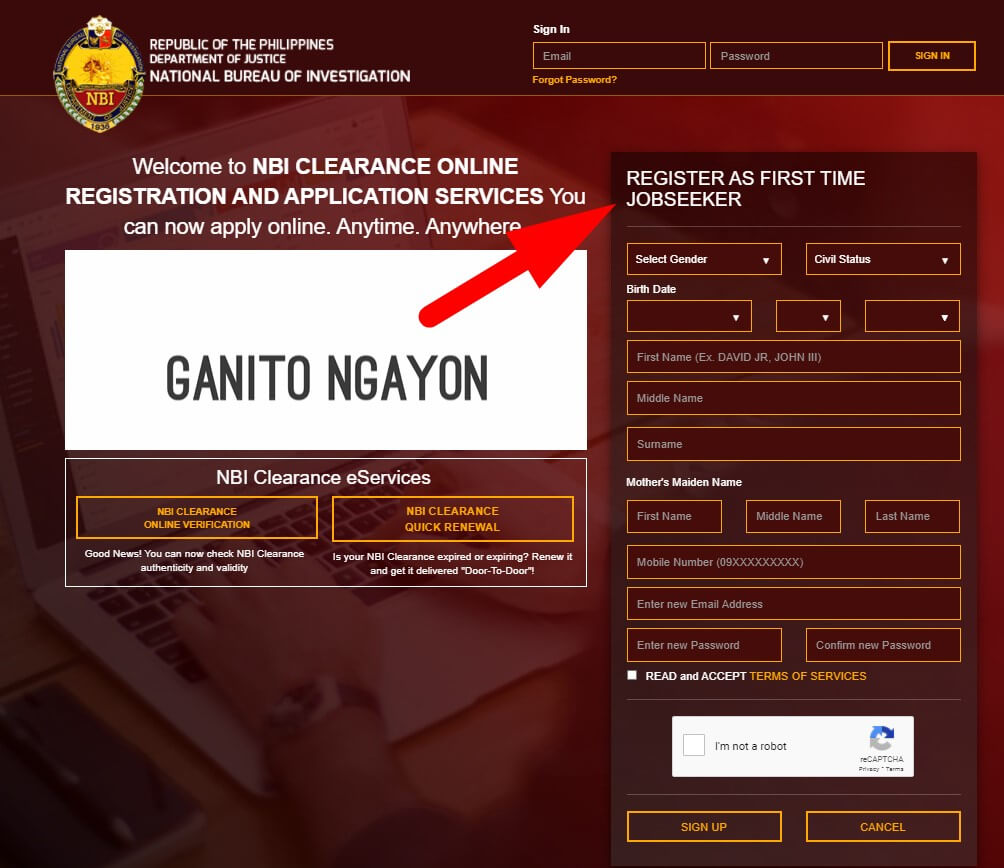 So then on that side, you are now start the registration without any fee process.
However the registration of "First Time JobSeekers" is almost same as a new applicant.
Conclusion:
NBI Clearance eServices provides an easy way to obtain your NBI clearance online and verify its authenticity. It offers two services: Online Verification of NBI Clearance for checking certificate authenticity and First Time Jobseekers service for those who require the clearance for government agencies or other purposes. The process is simple and efficient, enabling users to obtain their NBI clearance without hassle.