NBI CLEARANCE FOR FOREIGNERS ONLINE
Yes, the nbi clearance for the foreigners who are living within the Philippines may also be issued.
Here NBI Clearance is the primary requirements for any person's immigration those who wants to transact related by the below mentioned. Check out them.
Resident visa Application in the Philippines.
13a immigrant visa Renewal issued to foreigners who married to Filipino.
Immigration/citizenship overseas Application after living inside the Philippines for about half a year.
Why foreigners need to get an NBI clearance? Basically, the foreigners are need to have an NBI Clearance which are showing that this applicant is with the good standing and also not committed any crime while inside of the Philippines.
You can check out the step by step guidance on how to get the NBI clearance for foreigners inside the Philippines
Step1: NBI CLEARANCE FOR FOREIGNERS ONLINE REGISTRATION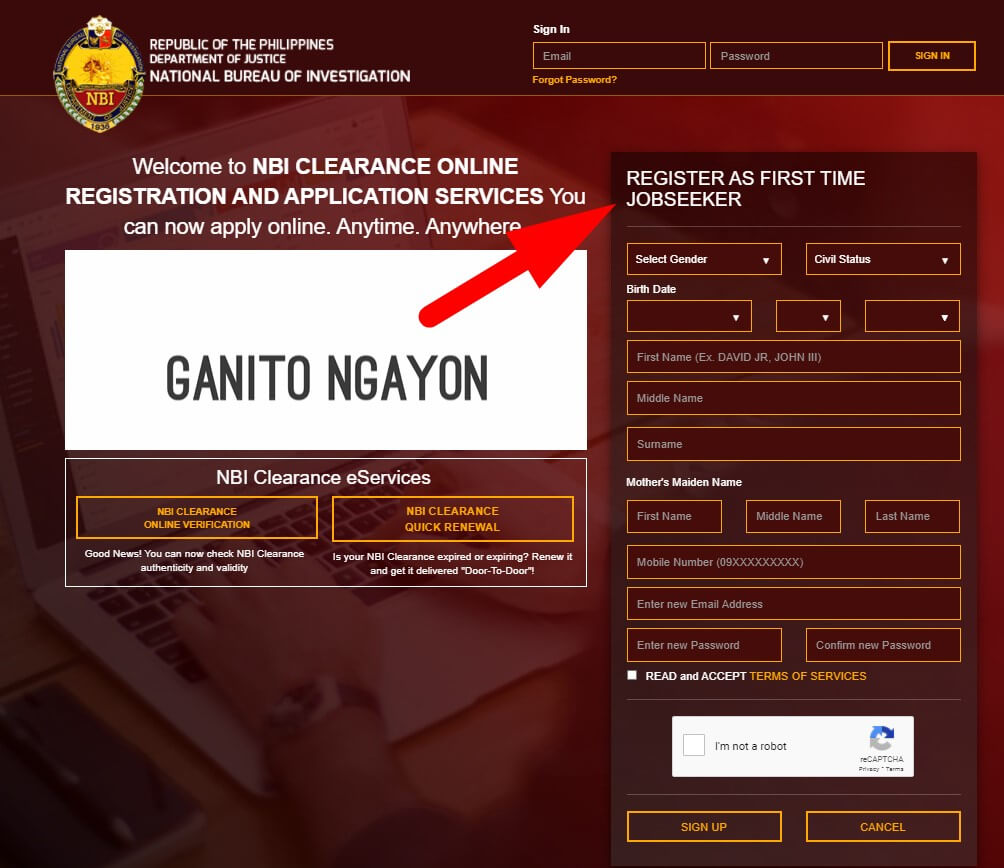 Applying this NBI Clearance for all the foreigners who are living in philippins is a similar process to the Filipino citizen.
First of all visit the website through this url: https://clearance.nbi.gov.ph/ with the help of your computer or laptop and then fill the registration form there.
But if you already have an account which has registered in NBI Clearance Website, then you can normally log in by using your email address and then proceed to the next step.
You may also like to read about nbi clearance reference number
Step 2: ONLINE APPOINTMENT
In this step the main purpose is to fill up the "Applicant Information" form. So you have to fill it out all box with your personal information as of it requested. Whenever you're done on it, you can click "Save Information".
After saving al of your information, then hit on the "Apply for Clearance" button, actually, this button is located on the top of the screen if you're by usage of mobile phone then it is the upper right corner from a page for the desktop or laptop users.
After you hit on the APPLY FOR CLEARANCE, then the pop up will appear and also ask for a valid ID/s to present in the appointment day.
The Foreigners acceptable IDs are the mentioned below:
Passport.
ACR I-Card or –Alien Certificate of Registration.
Here a pop up window would appear after click on "I Agree" button, so in this particular window you can select a time and also the date available for you from Monday to Friday and the NBI Branch which is located near to you. But here for the foreigners in the NCR (National Capital Region applicants), whatever the available branch you can apply is the ONLY in the NBI Main Clearance Center Located at U.N. Avenue Ermita, Manila.
But those foreigners who do live in a Province outside Metro Manila, al though you can easily apply your NBI Clearance in a Province where you do live. Here the application process would be 10-15 days until you get the NBI Clearance.
Here the purpose of this application for different foreigners NBI Clearance is not similar as before. This NBI Clearance for the foreigners is now the Multi-purpose ID.
Now for the payment section, you are able to see on the right side of your landing page which you able to select the payment method. The NBI Clearance fee could be done online or else via a bank over the counter.
The NBI Clearance Multi-purpose fee is PHP 130.00 + System fee cost PHP 25.00 a total of PHP 155.00. After paymet you must Keep the receipt as proof of your payment.
When you're done on paying your NBI Clearance, so from there go back to your NBI Clearance Online and then check your account status from Pending to Paid status.
However you can print the application form and also provide this together by your payment receipt on your appointment date.
Step 3: APPEARANCE ON APPOINTMENT DATE.
On your appointment day, you can go to the NBI Clearance Main Office located at U.N Avenue, Ermita, Manila right throughout the Manila Doctors Hospital.
So then whenever you go to the NBI Clearance Office then you should wear the proper attire and also do not wear shorts and slippers it will not be allowed.
You must get the documents along with you are mentioned below:
Original and photocopy of your passport (bio page up towards the visa implementation page).
Original and photocopy of your respective ACR I-Card or -Alien Certificate of Registration- (front and rear).
Print-out of the application.
Official Receipt.
So, since this NBI Clearance office is already having its own camera to take out your picture during encoding, so that you do not need to get your passport size photo's.
When you're in the Office of the NBI Clearance, then go straight to the Registration desk as immediately as you can and then pill up Alien Registration form No.5.
There you have to submit your Alien Registration form and then go to next station from there for the sake of biometric, Digital signature, Fingerprints, and Picture taking.
However the next step is to go to the next station for submitting all of your required documents and then you will get your manual fingerprints and signature.
Now behind of your NBI Clearance receipt, the NBI staff will be stamp and then specify the date to claim your NBI Clearance.
Step 4: CLAIMING NBI CLEARANCE FOR FOREIGNERS.
For all of the Filipino citizens those who could claim their NBI clearance exactly same day, but for the sake of NBI Clearance for the foreigners should be waiting at least six days for providing their clearance.
Even though the date to claim the NBI Clearance has been indicated at behind of your payment slip and then go back to the NBI Clearance office to claim your Clearance.
NBI Clearance Renewal for Foreigners.
Suppose, if you own your Old NBI Clearance for the foreigners and if you would like to renew it, then you can follow the below guidelines.
Note: The NBI Clearance for the foreigner can only able to obtained at its main office of NBI Clearance Office at the U.N Avenue, Ermita, Manila.
For the requirements of your NBI Clearance for Foreigners renewal, you have to have whenever you need to renew your NBI Clearance as the Foreigner is in the following:
Old NBI Clearance Copy.
Original and photocopy of the passport (bio page up on the visa implementation page).
Original and photocopy of ACR I-Card or -Alien Certificate of Registration- (front and back).
Print-out of your form.
Official Receipt.