If you would like to apply for the nbi clearance or would you like to go to the NBI Clearance Branch office then the main thing you should have is your NBI Clearance reference number. Even the NBI Clearance personal will also ask you that if you have an appointment and if you have your NBI Clearance reference number. You might also have some doubts regarding to this reference number.
What is the NBI Clearance Reference Number?
In NBI Clearance Office the only one reference number is to be present. But with this only reference number we can do two things such as to pay NBI Clearance Fee in any of your selected payment option of the NBI and the second one is to present this particular reference number in your selected NBI Clearance branch where you've selected for applying to confirm and also to claim your NBI clearance.
So, this nbi clearance reference number is more essential thing than anything else while you're applying. If you do not have this number then the information and also the application that you've registered on nbi's official website shall not be open if you don't have it.
WHERE TO FIND THE NBI CLEARANCE REFERENCE NUMBER?
Here the easiest way to find your NBI Clearance Reference Number when you are sign-in to NBI Clearance Online with your enrolled account.
Whenever you are Log-in to your NBI's Clearance online account, there you can view TRANSACTIONS which is located under the MENU. So click on TRANSACTION. After that you will get to know REFERENCE NUMBER. You can check the below image as a sample.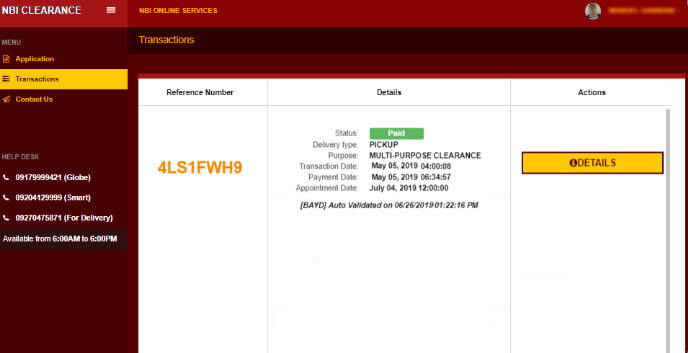 As we mentioned in the above lines you can use this reference number to pay your NBI Clearance in selected payment option of the NBI. After you paid your NBI Clearance, you must keep this NBI Clearance reference number and also this payment slip all of them together along with your valid id for nbi clearance then you can submit the in NBI Clearance Branch.
How To Verify Nbi Clearance Reference Number
By following these steps, you can easily verify your NBI clearance reference number and check the status of your application. Please note that the reference number will be used as a payment reference when you pay for your NBI clearance application at the selected payment method (e.g., banks, Bayad Centers, ECPay, 7-Eleven, etc.). Make sure to keep this number secure and don't share it with others.
Go to the official NBI Clearance website (https://clearance.nbi.gov.ph/) and click on the "Transaction" button.
Enter your reference number in the box provided and click on the "Verify" button.
If your reference number is valid, the website will display the status of your clearance. If not, you may have entered the wrong reference number, and you should try again.
You can also check the status of your NBI clearance application using your registered email address and the date of birth you provided during the online application process.
Have You Registered in the NBI Clearance Online?
In order to procure the NBI Clearance reference number. You have to Register in NBI Clearance Online. But if you've done your registration procedure then you no need to do this again you just need to sign in with your login details those you used while you're enrolled in this NBI Clearance.